U.S. President Donald Trump's threats to punish China over trade have been displaced by a pledge to negotiate after hearing the perspective of his counterpart Xi Jinping. Below are five charts that may explain the change in tone.
The Setting
A meeting with Xi at Mar-a-Lago created "tremendous goodwill and friendship," Trump tweeted on Saturday. Commerce Secretary Wilbur Ross said the countries agreed to a "100-day plan" to discuss trade.
The countries agreed to "properly" deal with trade friction, China's Foreign Ministry said on its website.
Trump told reporters en route to the summit in Palm Beach the U.S. has been treated "unfairly" and has made "terrible trade deals" with China.

Less Dependent
The world's-biggest exporter is becoming less dependent on external demand as policy makers promote consumption-driven growth.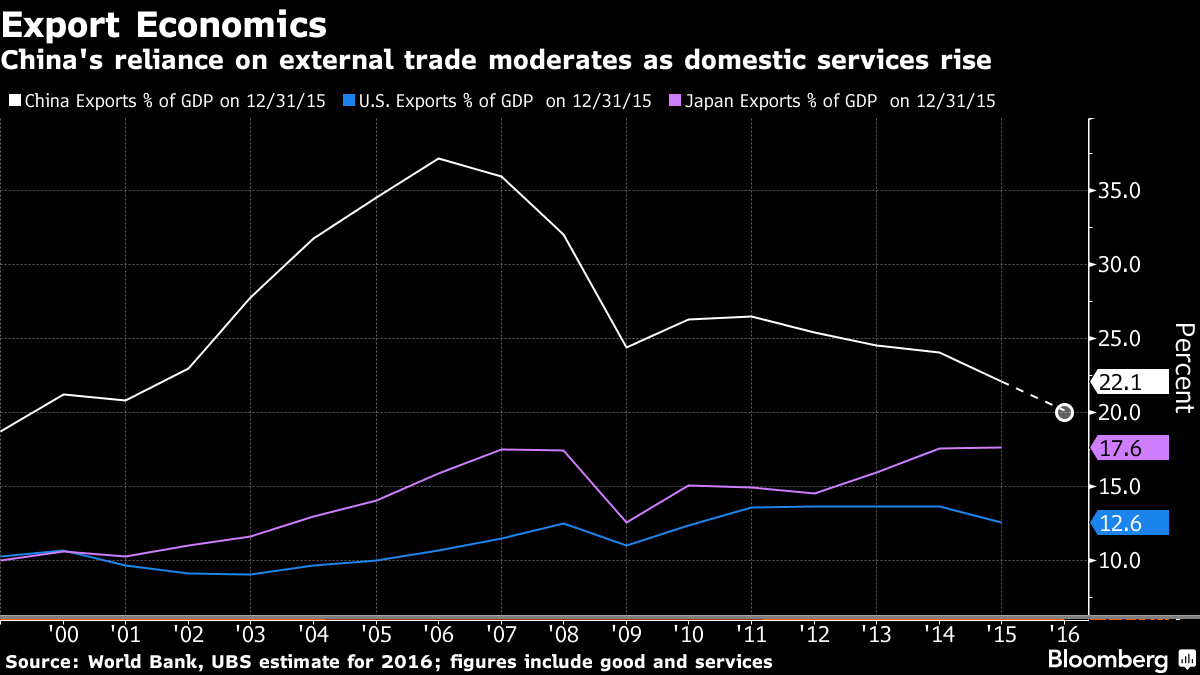 At the broadest measure, 40 million people work in export-related sectors in China today, 7 percent of non-farming employment, according to an estimate by UBS Group AG economists.
That's dwarfed by the services sector, which accounted for 43.5 percent of total employment last year, up from 36.1 percent in 2012, according to the National Bureau of Statistics. The new economy accounted for about 70 percent of new jobs, it said.
Inter-Connected
Also the world's-second largest importer, China is deeply connected with a number of nations. That means any U.S.-led trade war would also hurt some of its closest allies.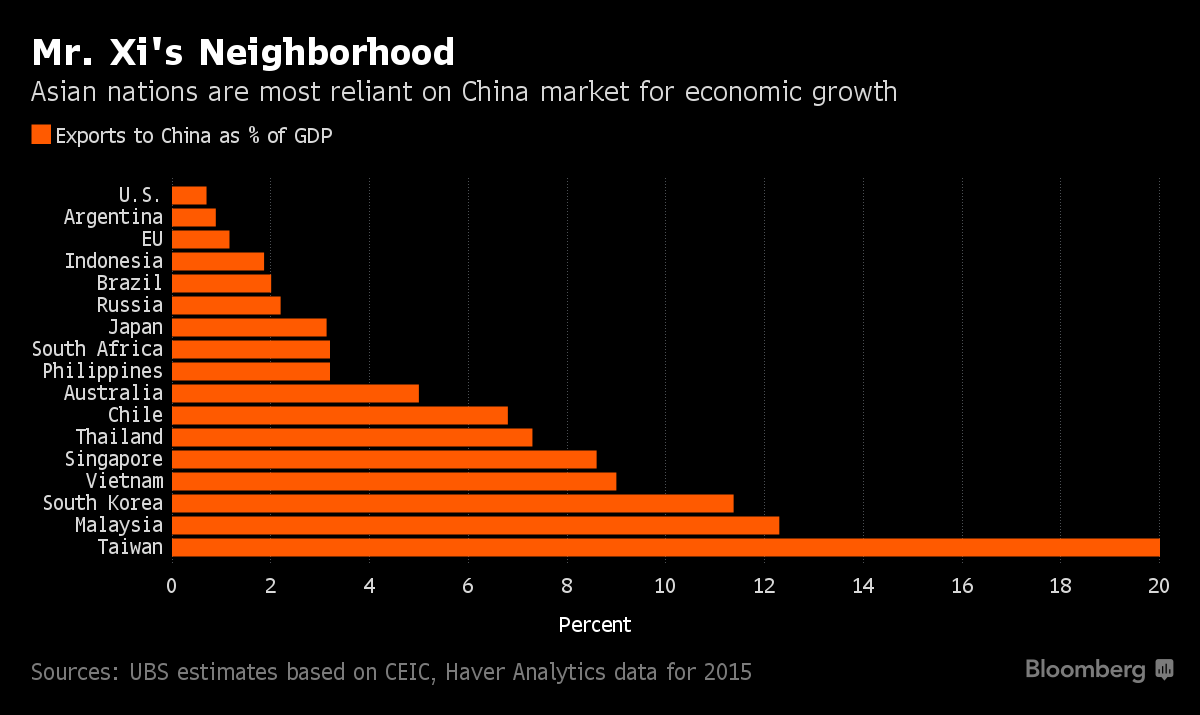 China is the biggest export market for many economies. Taiwan, Malaysia, Korea, Vietnam and Singapore are among nations exposed to any turbulence in China caused by potential trade frictions, according to UBS.
The effects of aggressive U.S. tariffs against China will ripple far beyond to countries including Germany and others in Europe through China's domestic and foreign supply chains, according to an Oxford Economics note in February.
Blow Back
A trade war would threaten complex mutual supply chain links with U.S. electronics manufacturers.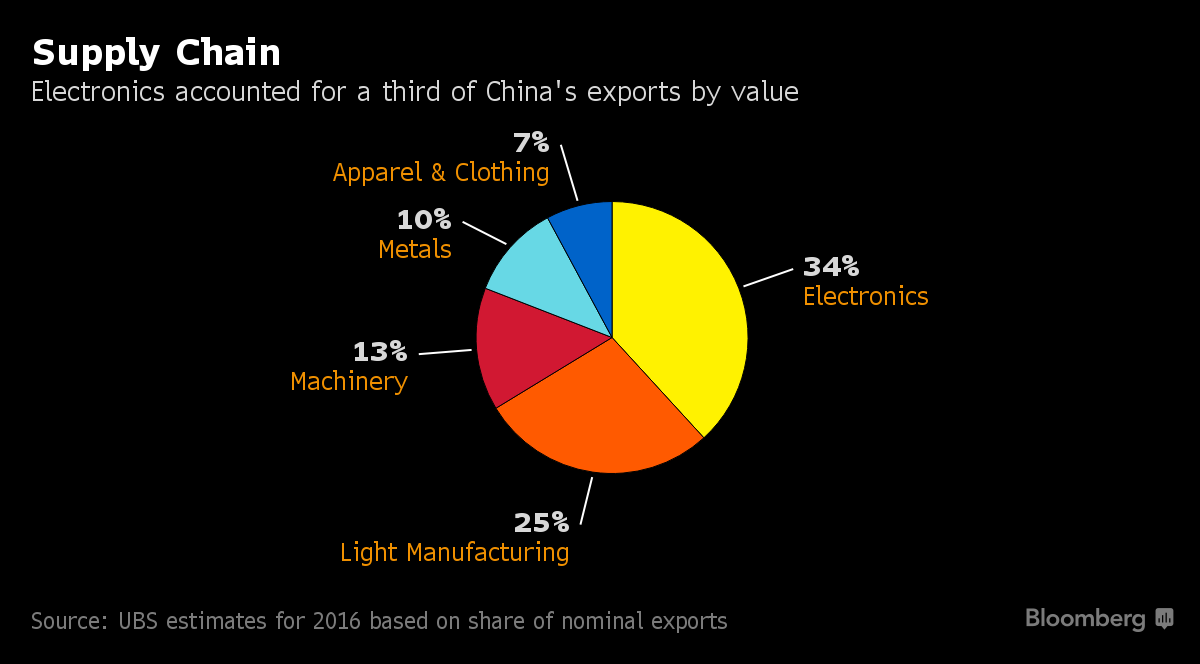 China's biggest export category to the U.S. and other countries is electronic products including cell phones and computers, according to UBS.
The U.S. is the most important supplier to China, according to Oxford Economics: "This illustrates the two-way nature of supply chains and suggests trade protection has the potential to come back to bite U.S. producers."
Apple, Boeing
A trade war would hurt a growing number of U.S. multinationals eyeing China as a major engine for revenue growth.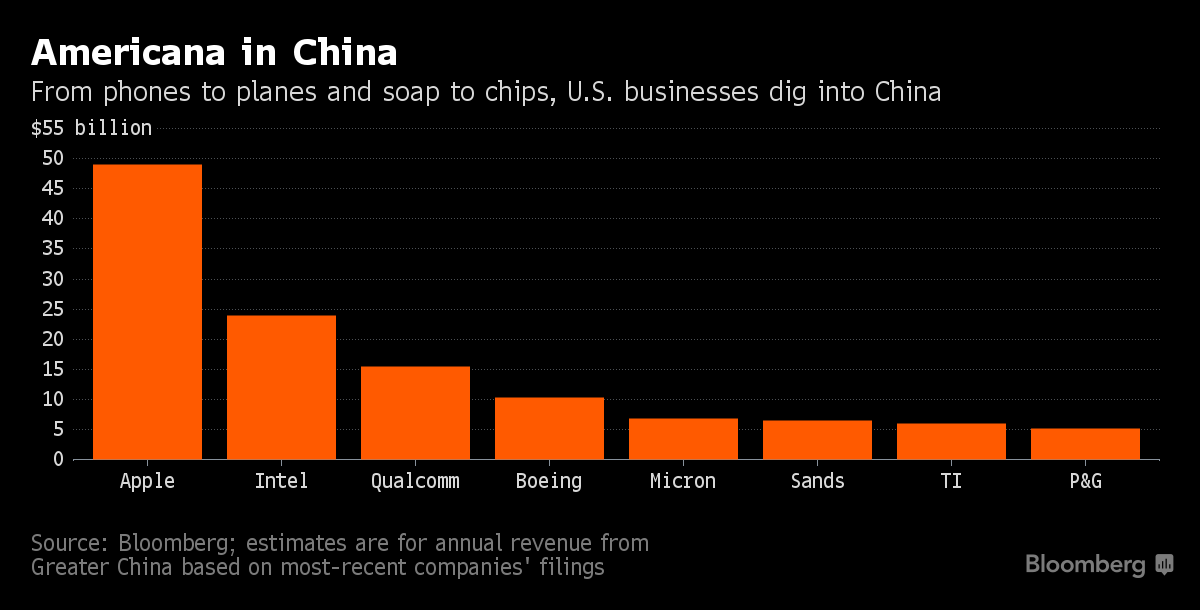 Major U.S. multinationals could be lobbyists for China, the Beijing-based Center for China and Globalization wrote in a report in January. 
The U.S. companies had been lobbying Congress to grant China most-favored-nation treatment every year before China joined the World Trade Organization in 2001, the CCG wrote. Now China can still work together with those multinationals to push for a stable bilateral relationship, it said.
Do Your Worst
Even on a worst-case scenario, the effect on China's economy would be manageable.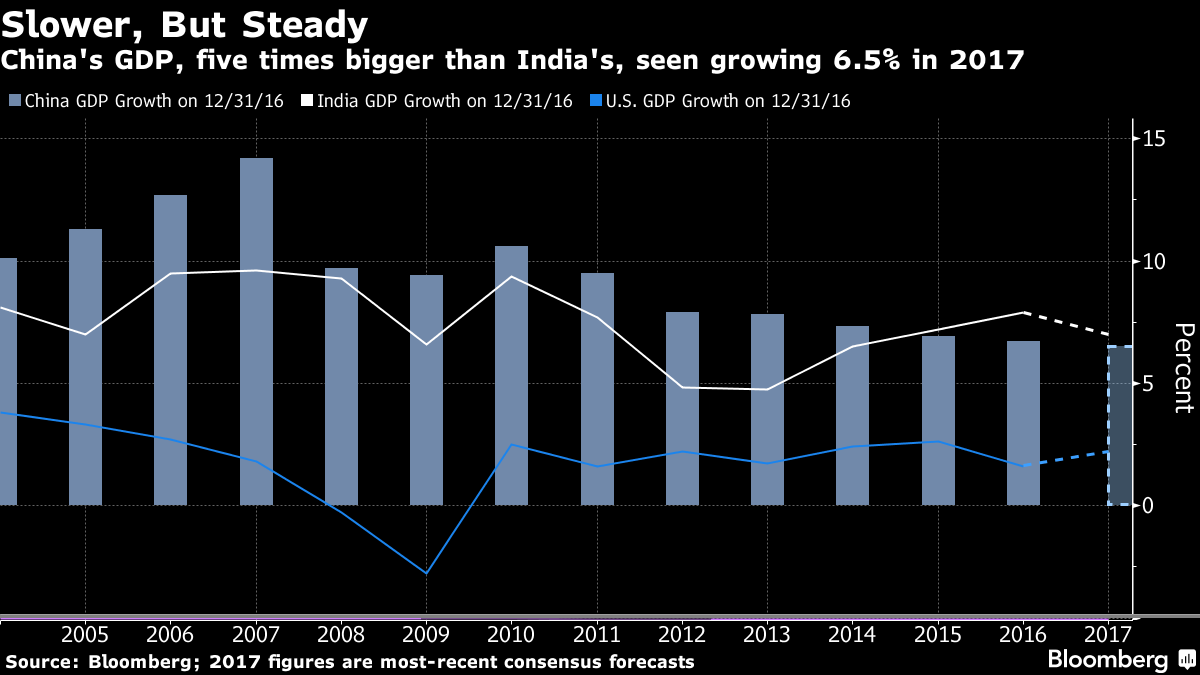 The most likely approach toward China from Trump will be case-by-case, sector-by-sector tariffs and the enhanced enforcement of U.S. trade laws, according to UBS. Even in a scenario in which the U.S. imposes a 15 percent tariff on Chinese exports, that would only dent China's GDP growth by 0.5 percent, UBS estimates.
With China already pursuing a more moderate yearly growth target of "about 6.5 percent, or higher if possible," the fall out from any tariffs if they were to come look manageable.
Those charts may help explain the confidence of Chinese officials in the days leading up to the U.S. visit: "We don't want a trade war," Jiang Shan, former General Director of Americas and Oceanic Affairs at the Ministry of Commerce, said in an interview March 31. "But we shouldn't be afraid of any trade war."
More From this publisher : HERE
Recommended Products